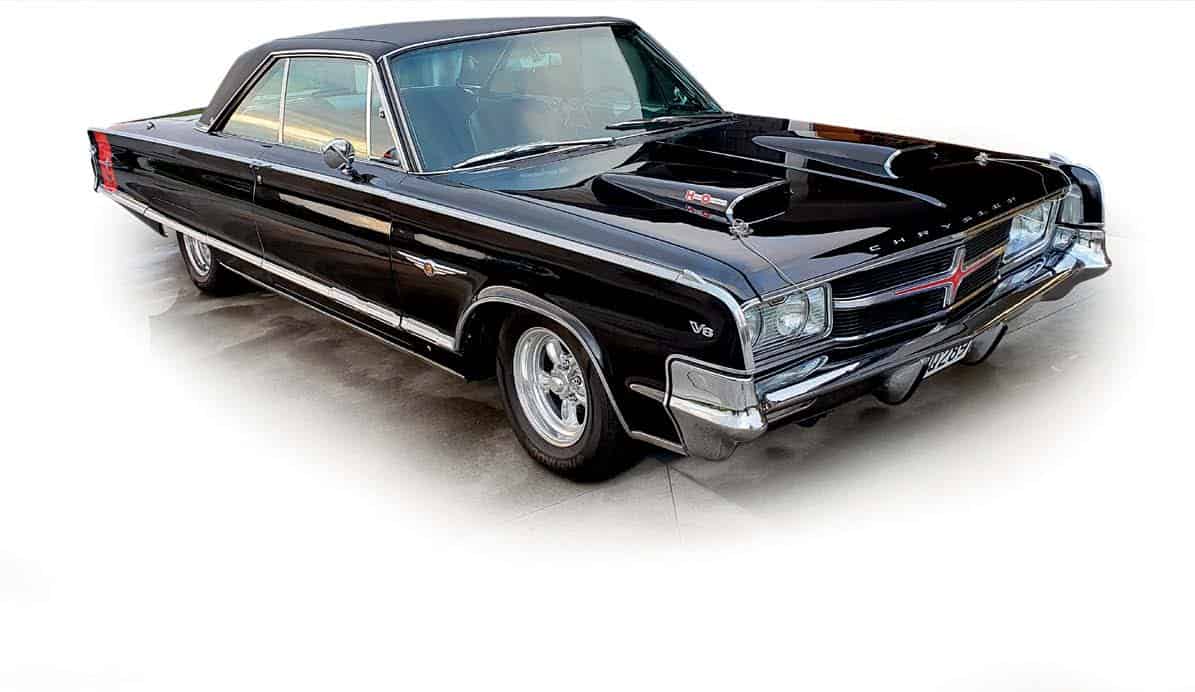 1965 Chrysler 300
When Waikato man Michael Blackwood was displaying his 1965 Chrysler 300 at last year's Americarna, he was surprised when an elderly lady walked up and told him she'd seen the car before. That intrigued Michael, because he'd purchased the freshly imported two-door only a few months prior. So he asked the lady where she had seen it – and she replied that it had been on display at an auto museum in Las Vegas.
Michael went back to the man who had sold him the Chrysler – and sure enough, the car had indeed spent a large portion of its life as the museum exhibit. Not only that, he was told, the museum owner wouldn't release the vehicle until its engine, gearbox and other internals had been thoroughly checked. "That probably explains why our Chrysler is in such great condition," he says. "It drives like a brand-new car. As a result I've done nothing to it, apart from fitting some larger exhaust tips."
Michael and his wife Majella already owned two muscle cars, a 1981 Trans Am and a 2017 Dodge Challenger, when they decided they would invest in a third vehicle. "We looked at one car, but the guy selling it wouldn't let me drive it, insisting instead on taking us for a drive. I'd like to thank him for being such an a-hole, because we turned our attention to the Chrysler 300," Michael says.
"The man selling that car was completely different. He explained the car didn't have a Warrant of Fitness, but that he would get it done right away. So we returned the following weekend, drove the car, and purchased it." This car is a rare example of what was known as the Chrysler 300 'non-letter' series of cars, as opposed to higher-performance and more expensive 'letter series' of 300s that were built from 1955 to 1965.
The non-letter series vehicles were built from 1962 to 1971, and …were intended as sporty but luxurious – which explains why they became known as "bankers hot-rods".
Michael Blackwood loves driving his example, which is powered by a 383 cubic inch 6.3-litre V8 mated to a three-speed auto. "I just cruise around in it. It stops me from driving the Challenger, which is just as well because I keep getting tickets in that one," he says. "There's no way in the world I'll ever get rid of it," he says of the Chrysler 300 with its personalised plate DZEIER. "I've already told my wife that if we ever split up, she's not having it!"