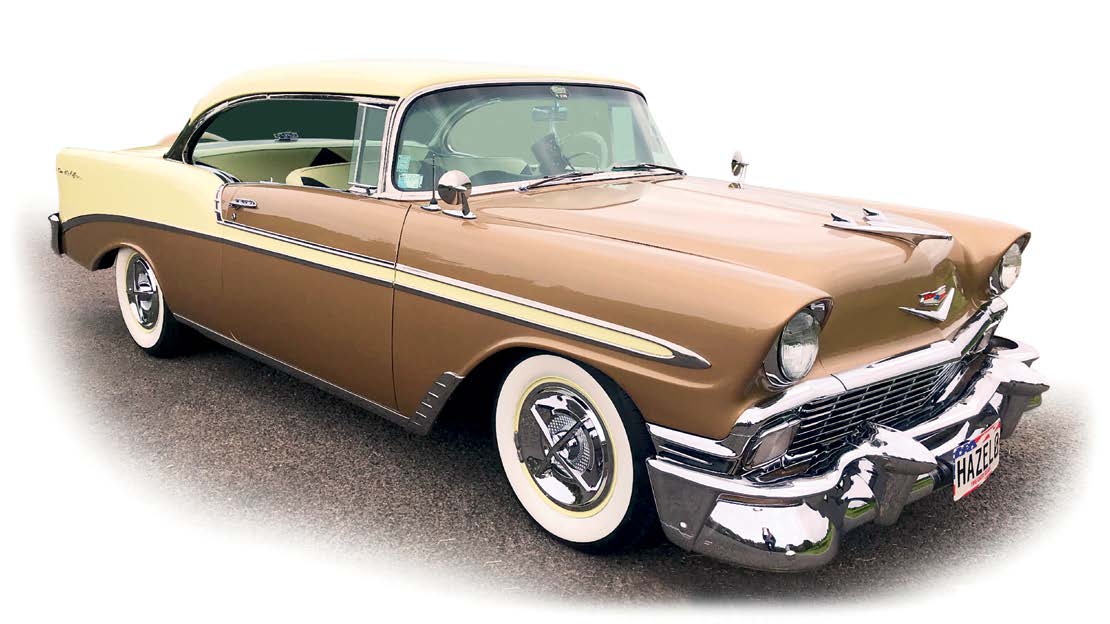 1956 Chevrolet Bel Air
When Chrissy Chapman decided she'd like a 1956 Chevy Bel Air sports coupe, she wanted its two-tone paintwork to be turquoise and white. Instead, she got gold and yellow.
But that was OK, because Chrissy discovered that although the two hues were part of Chevrolet's standard colour palette, their combination was to a special order for the car's original owner, an Idaho woman called Hazel.
A Continental kit and vinyl dash were also accessories that Hazel had ordered for her car. "After a couple of weeks of her being home the colour grew on me, and with her history I couldn't bring myself to change the colour," says Chrissy. "And I'm so glad I didn't – I just love it."
The Chapmans also decided to honour the original owner by giving their Bel Air the personalised number plate HAZEL0 – the 0 having to be added because someone had already purchased HAZEL. And that put paid to an original plan for the plate to be 1HOT56, which is now among artwork on display in the bar at their home.
The Chapmans purchased the Chev in 2018, and when it arrived in New Zealand in October that year they were surprised to discover trophies in the trunk that the car had won at various meets in USA. The pair also discovered that the Bel Air had a fascinating history. After the original owner had sold it to a dealer, it then became a competition prize at Cactus Pete's Resort Casino in Nevada which was celebrating its 30th anniversary.
The winner was a rodding enthusiast who continued to show the car, and when he passed away it was left to his brother, also an enthusiast. Although the car was in reasonable order, Chrissy's husband Paul Chapman did a full restoration, which included replacing the 265 Chevy motor with a 350 Chevy crate motor and a four-speed automatic with overdrive.
The Bel Air was repainted, its original yellow and black upholstery was replaced, suspension was upgraded, and power steer and power brakes were installed. One thing the big Chevy didn't get, however, was air conditioning. "I love to drive my car with the windows down – it suits her style," says Chrissy of her car.
"She's a fantastic car, drives just like a new one. I take her out all the time." And one more thing: If anyone knows the whereabouts of the personalised plate HAZEL, Chrissy would love to purchase it. "I'd buy it in an instant," she says.